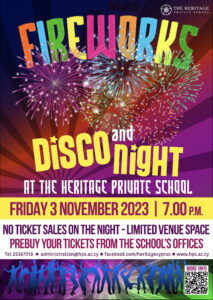 We are delighted to announce that on Friday 3 November 2023, our School will be holding our annual Fireworks Night and Disco Party at the School's Amphitheatre, starting at 7.00 p.m.
There will be a spectacular fireworks display, food stalls as well as a chance to dance and have fun. Tables and chairs will be provided.
MORE INFORMATION
How much are the tickets?
Tickets are €10 per person (all ages).
Can I buy my tickets on the night?
Tickets have to be pre-bought from our School's offices. There is a maximum number of tickets, which will be sold on a first come first served basis. Only ticket holders will be allowed entry on the night and there will be no ticket sales at the entrance.
Will there be parking spaces?
There will be limited parking spaces. For that reason, as well as for health & safety and to reduce carbon emissions, we strongly advise carpooling (i.e., sharing car rides with friends/family). 
What time does the event finish?
The main fireworks display will be finished around 9.00 p.m., however the music and dancing will continue for quite a while longer.
Is this a suitable event to bring young toddlers/babies to?
Yes, many families come along with their younger members but you may consider having earplugs or noise-cancelling headphones for the little ones so they do not become scared of the firework sounds.